Hello again everyone! This is my NOTD. I went to a beauty supply store today, suggested to me by a lovely follower named Stacey. And this store was just... wow. I can't begin to tell you how much polish they had. Holy cow. I was in polish heaven. Probably gonna go back again real soon and just sit in there for hours and rummage through all they have!
In the piles I was lucky enough to find 2 polishes I had seen on another blog a long time ago. I had wanted to try this collection, since it was so interesting. Today, I will show you these awesome polishes...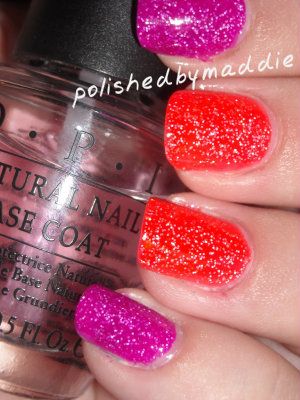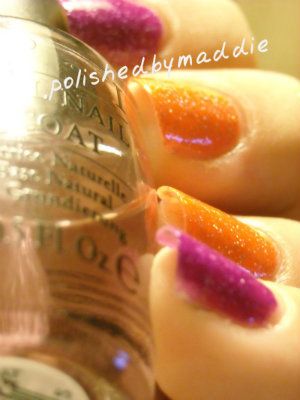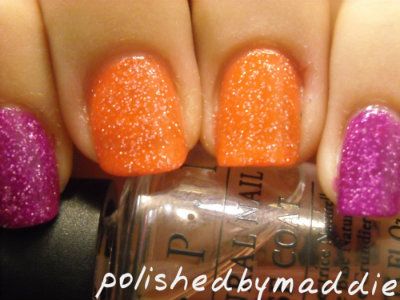 These polishes are such oddballs. I'll start with the purple, Wink, Wink, Twinkle. This is a bright purple. Super pretty and opaque in 2 coats. Now, I feel like this polish showed the glitter more. I saw less of a holographic effect from the glitter with this polish though. But still, there's something so... different about this polish. The way the glitter still shines through, without sparkle is so amazing. Reminds me of a jelly sandwich, but it's not.
Now on to You Got Soul-ar. I love this name, and so perfect for a BRIGHT orange. Kinda reminds me of a traffic cone in certain light. Now, the holo effect in the glitter in this polish is a lot more noticeable. This was too, opaque in 2 coats. I love the look of this color, and surprisingly I thought I'd like this one the least. I'm loving this.
These polishes also dry smooth. WEIRD, I KNOW. I figured they'd be gritty and top coat eaters. But honestly, they dried completely smooth, with one normal coat of seche vite on top.


I am so impressed by Color Club and I honestly think they're really looked down on for NO reason. I think they are an amazing brand with a lot of room to grow to be one of the top polish brands around. I can't say they have ever disappointed me. Every mani I've ever done with Color Club has been smooth, fast, and BEAUTIFUL. Thank you Color Club for being so amazing!
**Products purchased by me**