Hey all! Sorry for being so quiet lately. Just got done with my freshman year of college! :) Now I'm just packing up and getting ready to head back to the east coast for most of the summer! (Yay for CVS, where I can get Milani and Spoiled!). Anyway, my nails have been very "blah" lately, for lack of the time and the motivation to do them. This is the first thing I've done with my nails that actually looked decent in a long time! Enjoy the holo-ness...

Flash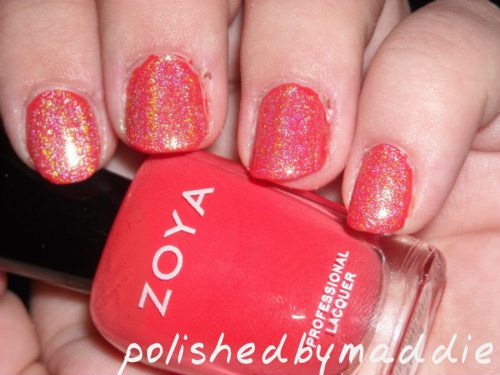 Indoor light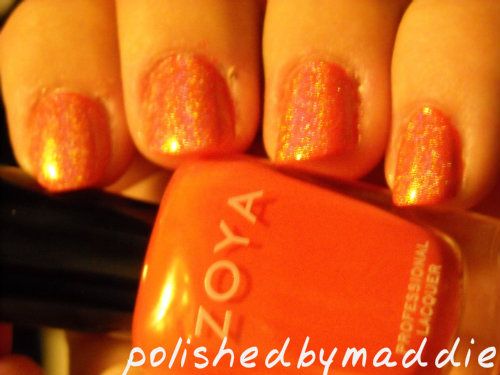 Flash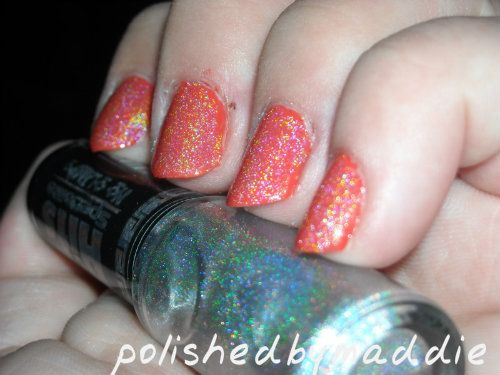 The base color for the mani in Zoya - Heidi, which I stole from my mom, because I had originally bought it for her in the Zoya Mother's day trio.... hehehe. Anyway, I absolutely love this color. The picture isn't exact to the color, since Hefesto changed it a little, but the bottle picture is spot on. This is a bright and saturated Red/orange - coral; PERFECT for summer time. It went on in two, easy, butter like coats. Zoya is great for nail polish like this. HITS Hefesto is a holo overcoat, which is BEAUTIFUL. Gives any polish a perfect linear holo effect. Only downside is that it changes the color of the polish a little, which I don't mind at all.
Overall:
I love Zoya. Did I ever mention they're my FAVORITE? Time to start buying more! Anyway, I love this mani and I love the holo-ness for summer, since I'm FINALLY on summer break! :) HITS Hefesto is my favorite holo polish I own by far. I purchased HITS Hefesto from Amy at Llarowe. I'll post the link down below so you can get some of your own. ;)
**All products were purchased by me!**
Link to Amy's store is
HERE
.